Protective & Marine Coatings by Mikris Finishers.
Mikris Finishers has been applying protective and marine coatings for over 50 years and are always at the forefront of technology and application methods.
Here at Mikris we strive to provide the best possible finish with the protection level that your project requires and all the necessary traceability.
How can Mikris help you to get the Best Protection?
We can assure our customers of a quality product, together with technical advice on all aspects of protective & marine coatings.

We can spray any thing from M4 bolt heads to large fabrications. Our large capacity spray booth is 2.5m x 2.5m x 6m and we have lifting equipment up to 2 tons.
Mikris can also provide coating reports and certificate's of conformity with your project should it be required.
Mikris can assure the best protection for its customers by conducting quality assurance tests. See below for further details.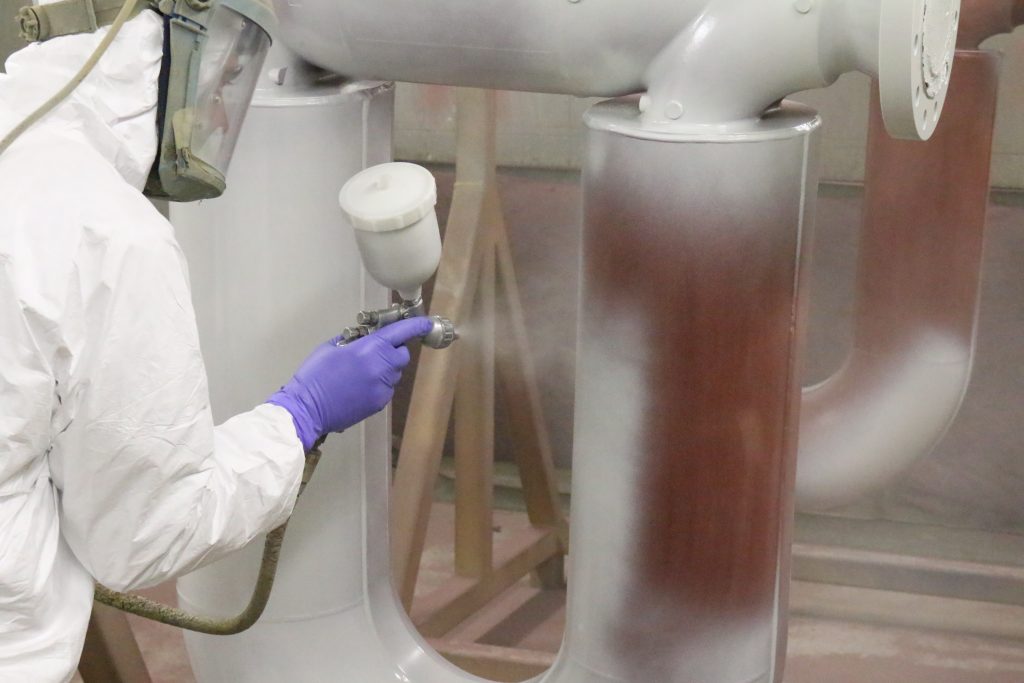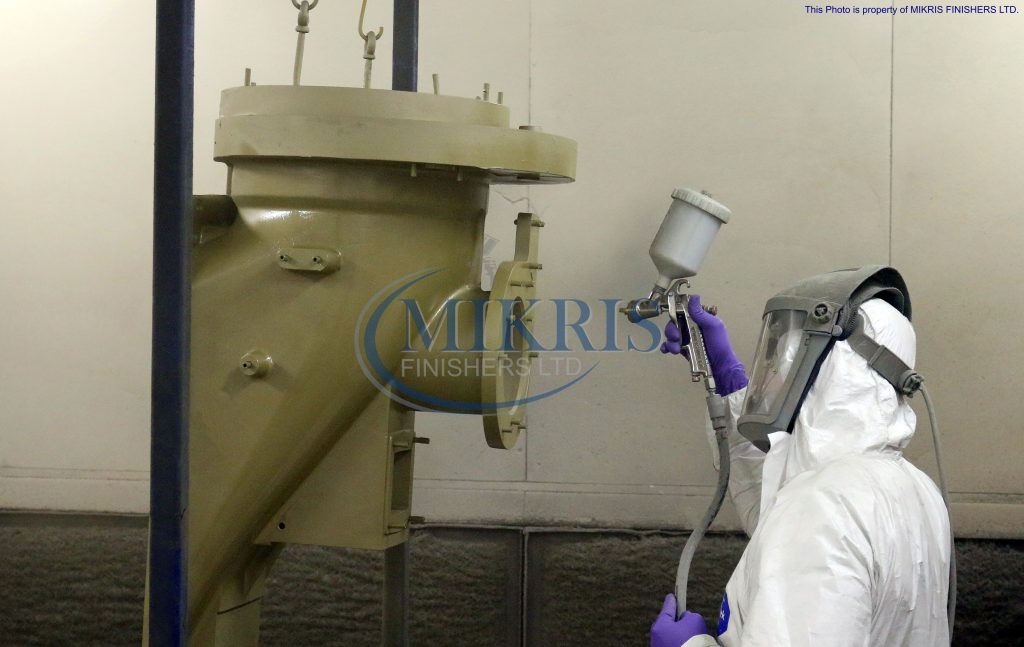 Industries we Service
Mikris Finishers has over 50 years experience working for many different industries such as:
Oil & Gas, Nuclear, Marine, Water, Medical, Aviation & Food to name just a few.
We have an extensive range of knowledge, of the requirements for different industries. Mikris can also adapt to any requirements to suite the needs of your industry also researching and testing alternatives to find a viable solution.
Working to Specs and DFT Requirments



We are capable of working to a variety of Customers paint specifications and can supply painting procedures where necessary.
We are constantly working and adhering to the following standards – BS EN ISO, ASTM, SSPC, NACE & NORSOK M-501.
We regularly provide coating reports as required by the customer. They represent a true and accurate recording of environmental conditions, equipment used, base & curing agent batch numbers with expiry dates, Dry Film Thickness per coat and any other requirements or testing required.

 If you need us to do a CPT/PQT to get us onboard then please get in touch and we would be happy to facilitate this and provide a full inspection report from start to finish.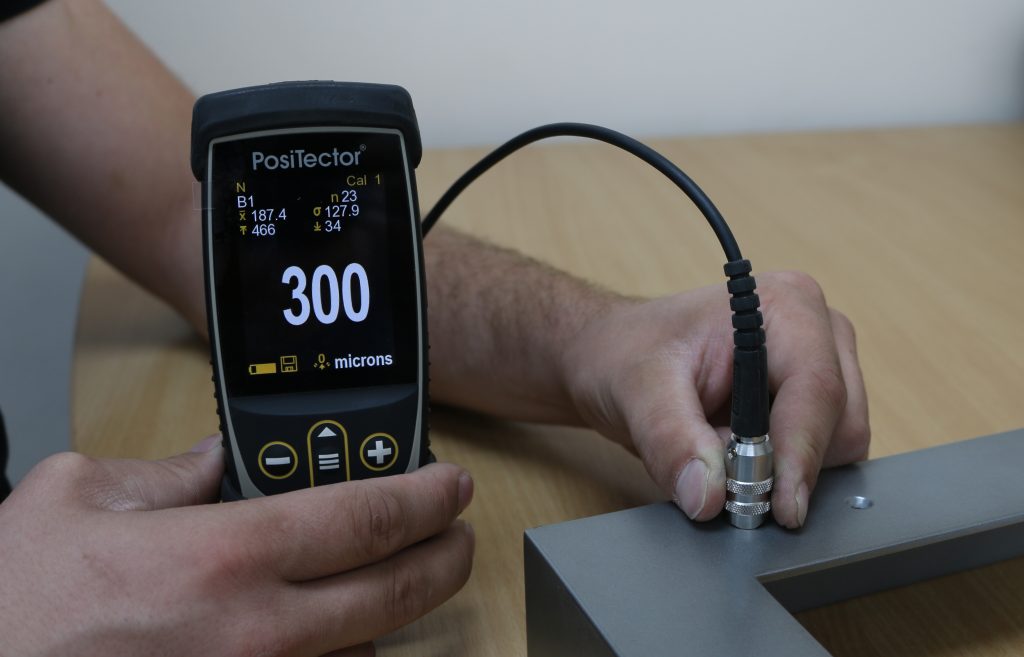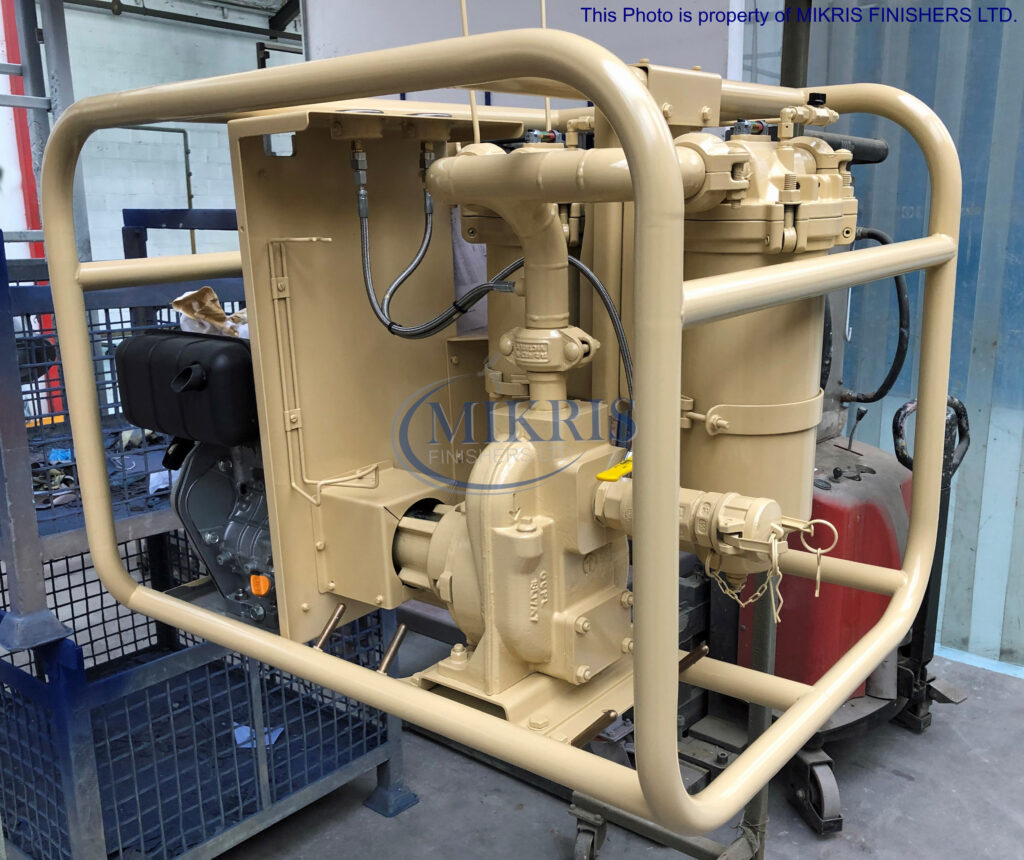 Protective Coatings we offer
We use an extensive range of coatings all offering different benefits and layers of protection. Please see list below.
Primers – Epoxy, inorganic/Zinc, Phenolic, High Temperature, Etch
Intermediate Coat – Micaceous Iron Oxide (MIO), High Build, Glass Flake
Top Coat – Epoxy, Acrylic, Polyurethane, Polysiloxane
We can also provide other coatings upon request, get in touch for further information.
Health and safety
Mikris are always up to date on all the latest health and safety requirements and strive to provide the best possible safe working environment for our staff and visitors.

Mikris keeps a fully up to date library of Technical and Material Safety Data Sheets for all our materials to make sure our staff are always fully informed and protected. Annual heath screening is carried out on our members of staff.
All our spraying is completed in our two regularly serviced Class 1 spray ovens.  All our sprayers wear industry leading air fed masks connected to our breathing quality air supply.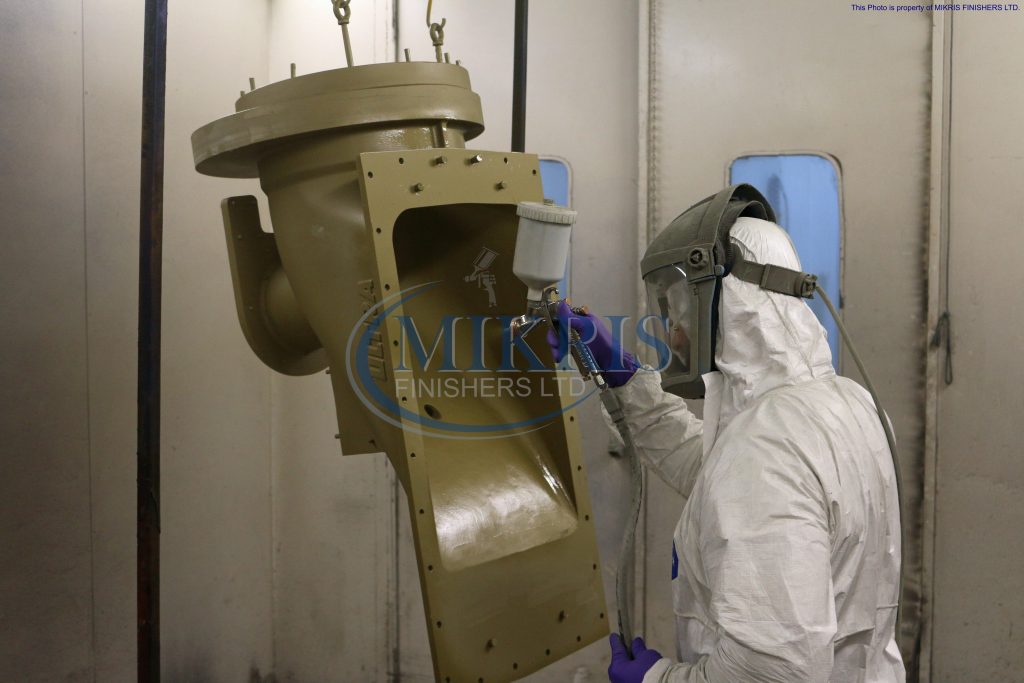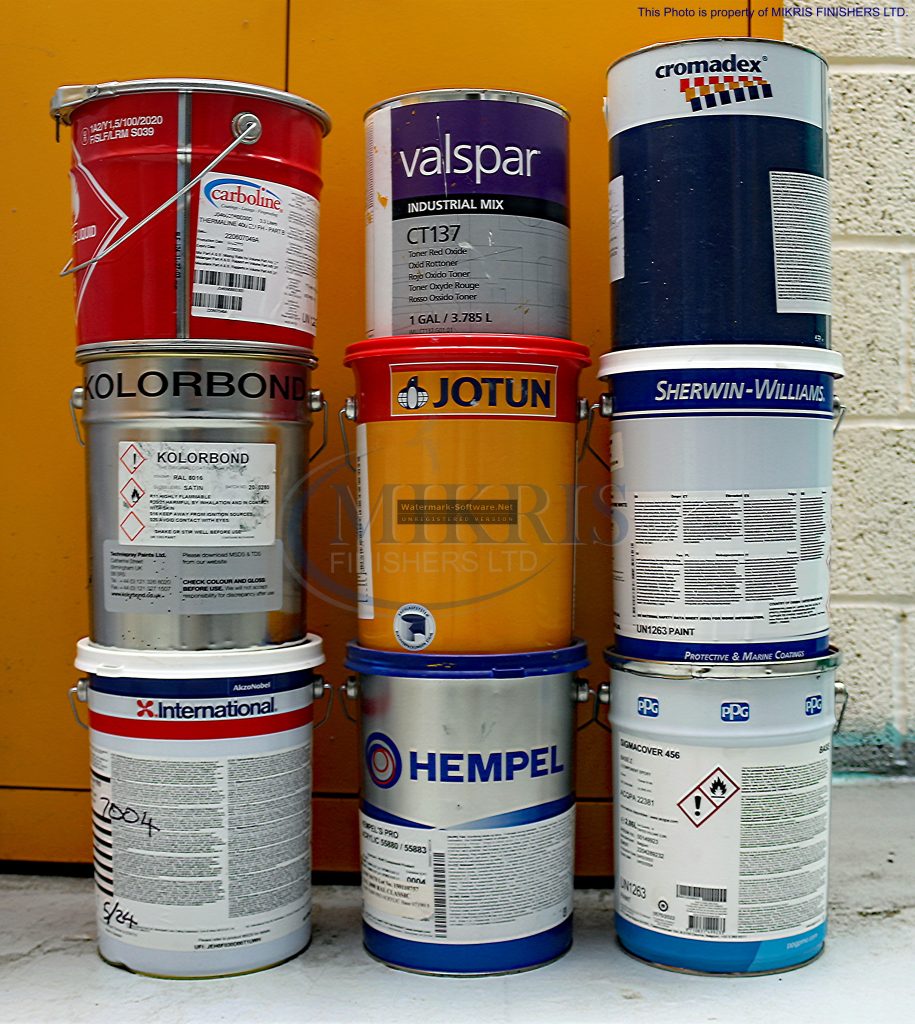 Manufacturers we use
Mikris finishers has direct connections to many of the the main stream paint manufacturers, such as:
Internatioal, PPG, Sherwin Williams, Carboline, Hemples, Jotun, Trimite and many more
Mikris also believe in using local suppliers as much as possible to support the local economy and to reduce the carbon footprint of our supply chain.
Importance of good Preparation



As has been said on many occasions the finish is only as good as the preparation.

Here at Mikris we take preparation very seriously, no matter how big or small we will always meticulously prepare your project to the highest standards to get the best finish every time.

Mikris has several ways of testing our preparation of the substrate. We can visually inspect before painting, or we can use various testing equipment to measure the results of our preparation. Please see our AMPP inspection page.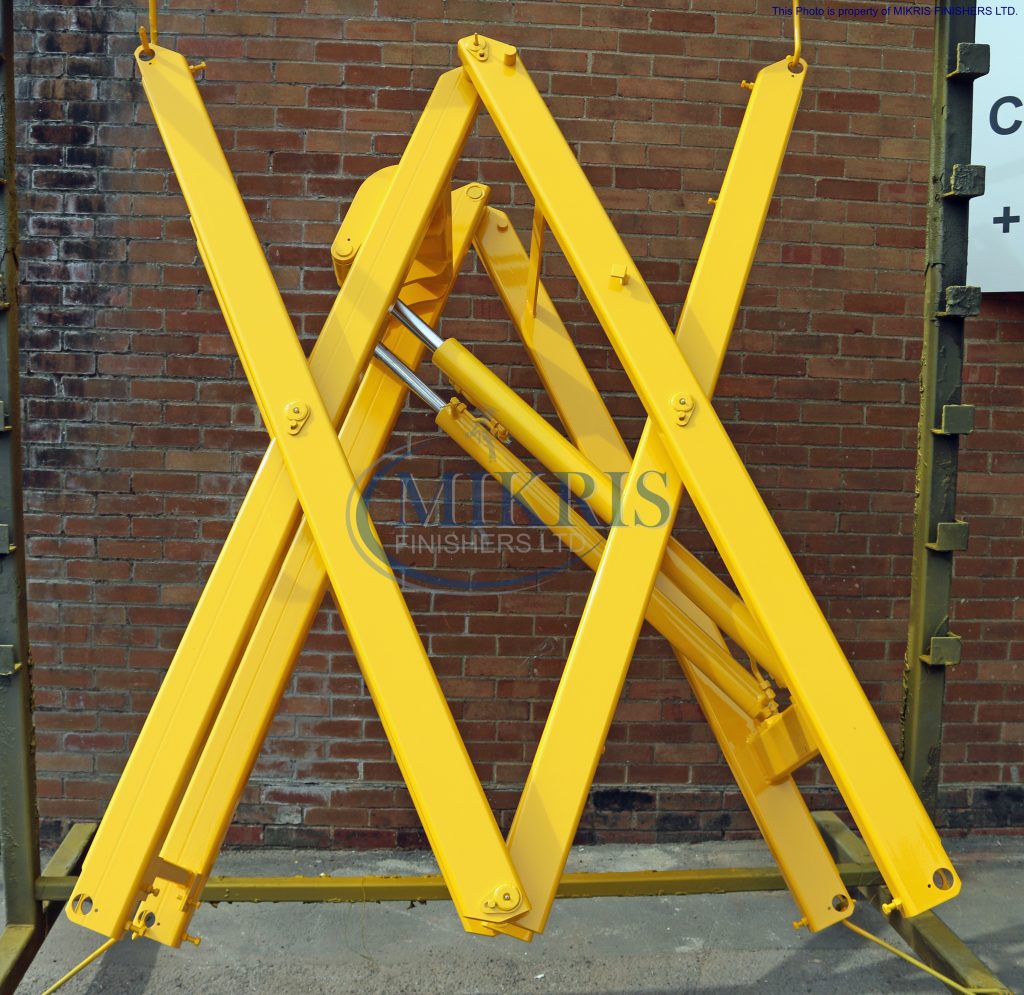 Other Types of Coating we offer
We can offer many alternative coatings to achieve aesthetic finishes for industrial finishing.
Materials we use.
2 Pack, Single Pack, Base coat & Lacquer, Etch holding primer, anti-corrosion primer
Other coatings – Conductive, Heat Resistant, Weld through primer, Wood stain
For more information please click here